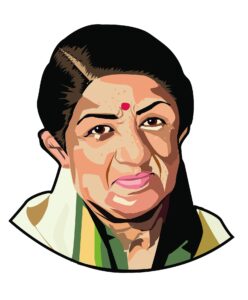 Facts and statistics about Lata Mangeshkar are as golden as her voice!
A well-respected personality and is known for her voice that has an intensity to rise shivers down your skin. Don't trust me? Well, go ahead and listen to, ae mere watan ke logo…
Known with ample designations, Nightingale of India is the most famous one among them.
Birth of the nightingale…
Born on 28th September 1929 in Indore.
Though her birth state is in Madhya Pradesh, some statistics state that her hometown rests in Goa.
The enchanted classical voice might be a gift from her father who was also a classical teacher.
Roots were in the family…
The entire Indian populace addressed and still addresses her fondly as 'Lata didi' which means older sister.
Her father late Dinanath Mangeshkar was also a well-known personality. Be it drama or music, people knew him for his mastery in both fields.
Along with music classes, his theatre company had a well-reputed stage.
When it comes to her siblings, Asha Bhosle is undeniable. Unlike her other siblings, Asha Bhosle walked on the footpath of her sister.
And the melodious journey begins…
There is a famous story of her childhood. In the beginning, though her father took singing classes her music did not start until the age of 5.
Once one of his students was singing incorrectly. Since her father was absent, small Lata started correcting the student and told him how the tune was.
And that's how Lata Mangeshkar as a small girl began her singing journey.
She partnered with her father on stage ever since she was young.
A career that deserves a salute...
Her father's death in 1942 was a major death blow as the entire family's burden fell upon her. In order to support a huge family, she started acting too along with singing.
Mumbai Film Industry stressed that she had a thin voice and was not fit for playback singing.
Master Ghulam Haider, who was her mentor, took it as a challenge to prove that nobody has a voice like her!
He paved the way for success by giving her a number of opportunities as well as a trust which she wanted badly.
Also, she has worked with the greatest music directors. Counting from Master Ghulam Haider to Naushid to the duo- Shankar Jaikishan to Madan Mohan.
She also has a work history with famous directors such as Sahil Choudhary and Mr. Roshan. As the time progressed, she worked with Laxmikant Pyarelal, R.D. Burman, Kalyan, and Anand too.
Lady in white…
The nightingale of India also owns the title of Lady in White too.
So, you must be assuming, why the lady in white? Lata Mangeshkar is one among the many who witnessed the independence of India…
She was 18 years old during the independence and also these were the years when Mahatma Gandhi and other reformers wore white.
According to them white was a symbol of purity and freedom.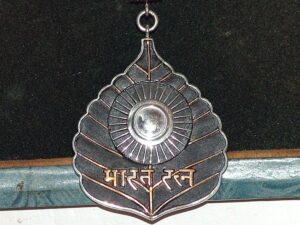 Bharat Ratna…
Receiving Bharat Ratna is the most prestigious honor for an Indian.
Lata Mangeshkar was garlanded with the prestigious tribute of Bharat Ratna in 2001.
Other awards 
Including one of India's highest civilian awards that is the Bharat Ratna, there are other awards too in her name.
The data includes:
3

National Film Awards

4

Film fare Special Awards
Bengal Film Journalist's Association Awards (

15

of them)
Film-fare Lifetime Achievement Award

4

Film-fare Best Female Playback Awards
Dadasaheb Phalke Award in 1989
Daughter of the Nation Award in 2019
Recognitions
She became the

first

Indian to perform at the Royal Albert Hall in 1974.
The France government deliberated on her its highest civilian award that is Officer of the Legion of Honour in 2007.
She holds the record of most recorder artists throughout the history of Indian music.
In addition, the President headed her nomination as a member of the Rajya Sabha (which is the upper house of India's Parliament).
"Lata Mangeshkar: A Musical Journey"
When a book dictates a story of a personality, its main motive stands to guide others. For example, a stock of books written on the lifetime of Mahatma Gandhi.
Similarly, "Lata Mangeshkar: A Musical Journey" is a book written by Yatindra Mishra that contains her entire life story.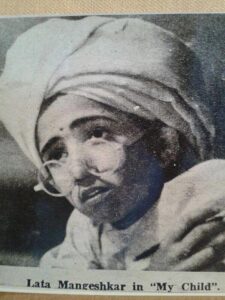 Reason for being famous…
Lata Mangeshkar was famous for her playback singing in the Bollywood industry.
She entered the forefront of the industry while she was a child.
Her first song happens to be from the movie, 'Kiti Hasal?' which was a Marathi one.
Later, she got a chance in a Hindi movie wherein she sang her first Hindi song on a huge stage. Recorded in 1947 (which has national importance), the movie name was, 'Aap ki Sewame'.
And thus, the year 1948 marks the year of the beginning of her glory.
Mentors, gurus, guidance...
No matter how many good qualities one possesses, they are incomplete without proper guidance.
And indeed, famous vocalist Lata Mangeshkar had her teachers, mentors, role models, and her share of guidance too.
Though there are is a list of important names that made Lata Mangeshkar what she was, however one could never forget her father. He was her first teacher and of course a remarkable role model!
Accordingly, the facts and statistics about Lata Mangeshkar state the list of mentors:
Aman Ali Khan
Amanat Khan
Tulsidas Sharma
Ghulam Hyder
Anil Biswas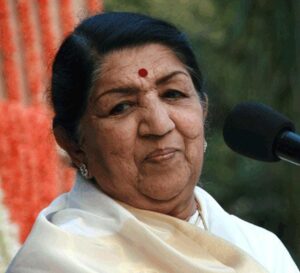 Facts and statistics about Lata Mangeshkar
The majority of her fans and co-workers believed that goddess Sarasvati (the goddess of knowledge and music) blessed her voice.
In spite of her excellence in the Bollywood industry, she was also one of the multilingual singers.
At first, singer Noorjehan was a well-known vocalist in India. However, after his departure to Pakistan, the position paved its way for Lata Mangeshkar.
Her voice had a similar style to that of Noorjehan, nonetheless, she developed her own style later.
Her singing period that is 1942-1962 marks the golden period of Bollywood cinema.
Statistics about Lata Mangeshkar's success
Firstly, she had a record of singing for more than 200 music directors.
Secondly, she had worked with almost 300 lyricists.
Thirdly, she had done a voice-over for 61 female actresses and also male actors.
Lata Mangeshkar's famous melodies…
The statistics about Lata Mangeshkar help us to create a list of a bunch of songs that hit a different nostalgia.
For instance, Lag Jaa Gale, Ek Pyaar Ka Nagma hai, Yeh Kahan Aa Gaye Hum, Ae Mere Watan Ke Logo, O Paalan Haare, Ye Galiiyan Ye Chaubara, Aap Ki Nazron Ne Samjha, Kora Kaagaz Tha Ye Mann Mera, Tere Bina Zindagi Se Koi Shikwa, Tere Bina Jiya Jaye Na, and many more…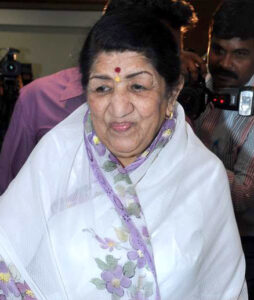 End of the soulful journey…
She was admitted to Breach Candy Hospital of Mumbai on 8th January. A famous vocalist who lived along with the history of India lost her life to the global pandemic at the age of 92.
She breathed her final breath on 6th February 2022 due to multiple organ failure.
Panchi banu udti firu mast gagan mein (I will turn into a bird and fly in the high sky)
Aaj mein ajad hun duniya ke chaman mein (Today I am free in the garden of the world)
Similar to her song, indeed she is a free bird now in the wide stretched sky of heaven…