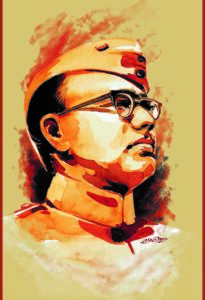 Facts and statistics about Subhash Chandra Bose speak of him as a respected leader of India's independence movement.
Birth of Subhash Chandra Bose
23rd January 1897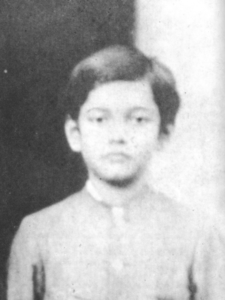 The respected leader of India's independence movement was born in Cuttack, Odisha.
Living the Indian legacy of having a vast family, he was the 9th child out of 14 of Jankinath Bose and Prabhavati Bose.
Profession
Firstly, he worked as a Civil Service Officer.
Secondly, he served as a politician.
Thirdly, as a freedom fighter and,
Lastly a military leader.
Slogans of Subhash Chandra Bose
According to him, the goal of the Indian National movement should be complete independence, not of a 'dominion'.
In the same way he had a total of 4 famous slogans:-
'Tum mujhe khoon do, main tumhe azadi dunga'
'Jai Hind'
'Dili Chalo'
'Ittefaq, Etemad, Qurbani'
'Netaji' Subhash Chandra Bose
He strictly supported independence as a complete whole and not domination. Because of this, soldiers designated him as Netaji.
The soldiers of Azad Hind Fauj gave him the desired title first in Germany.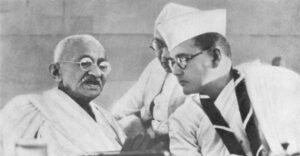 Subhash Chandra Bose and Mahatma Gandhi
Bose under the guidance of Mahatma Gandhi joined the Indian National Congress.
Netaji Subhash Chandra Bose always had contradictory thoughts to that of Mahatma Gandhi.
Bose's ideas were fierce while Gandhi's were not! This gave rise to differences between them.
Mahatma Gandhi was a strong devotee of Non-violence and Satyagraha. While on the other hand, Bose always stood for self-governance.
Known for his fierce ideas when it came to the Indian independence movement, Bose's ideas often conflicted with those of Mahatma Gandhi.
Facts and statistics about Netaji Subhash Chandra Bose's initial stages
Facts and statistics about Netaji Subhash Chandra Bose are as follows:
Firstly, he was a brilliant child who excelled in academic fields. He completed his graduation, gaining a 1st Class in Philosophy from the Scottish Church College in Calcutta.
Secondly, Netaji Subhash Chandra Bose passed his ICS examination on 22nd April 1921. During this time he was only 21 and ranked 4th on the priority list.
Thirdly, soon in 1921, he resigned from the ICS with the sole aim of joining the Non-Cooperation Movement. He was highly disturbed by Jalianwala Bagh Massacre and thus planned to leave ICS.
Fourth, the facts state that Netaji was highly inspired b-y Mahatma Gandhi and Swami Vivekanand. So, resigning from his job in order to support his nation-in-need was his topmost priority.
Fifth, Subhash had an urge to work with Deshbandhu Chittaranjan Das. He joined Das's lead as he was leading the Non-Cooperation Movement in Bengal and became his supporter.
Sixth, along with Jawaharlal Nehru, Subhash Chandra Bose started the Independence League in 1928. A huge crew of youths joined it under Congress.
Seventh, he was then a member of the task of framing the future constitution of India. Out of 8 members, he was one among them.
Eighth, in later stages his election as the President of 'All India Union Congress' and 'Youth Congress' also took shape.
Ninth, Bose founded Azad Hind Fauj, also known as Indian National Army.
Tenth, Bose had a number of arrests. During the ongoing Civil Disobedience Movement also he underwent imprisonment and was released a year after.
Facts and statistics about Subhash Chandra Bose
Firstly, Bose regarded Deshbandhu Chittaranjan Das as his political guru.
Secondly, Bose had to face trials in jail as he was an active member of the Indian independence movement.
His selection as a member of the Bengal Legislative Council took place while he was already in Mandalay jail.
Bose along with Jawaharlal Nehru protested against the suspension of the Civil Disobedience Movement as a result of rage against the hanging of Bhagat Singh.
After his imprisonment under the Bengal Regulation Act, his release came with his banishment from India to Europe.
His Europe banishment paved the way for international help as he established political contacts from Europe. (Similar to what our present prime minister Shri. Narendra Modi has successfully established)
Ignoring his banishment, Bose still returned back to India. Later, with Indian National Congress winning 7 states in the General Election of 1937 he won over his banishment too.
Netaji came up with his own bank called 'Azad Hind Bank'.
He also started the following newspaper called 'Swaraj'.
Unknown facts and statistics about Subhash Chandra Bose
Subhash Chandra Bose once hit one of his British teachers as he had made a nasty racist comment on Indians. Consequently, this incident resulted in Bose's expulsion. Expulsion from both the Presidency College and Calcutta University.
He has a book written called, 'The Indian Struggle' which almost covered India's entire independence movement. The book suffered a ban by the British in India although its publication in London. The reason is quite explanatory as the British feared more nationalistic fire than the already existing one!
According to Bose's daughter, Emilie Schenkl (his wife) was a private person and they got married secretively in 1937.
Anita Pfaff (Bose's daughter) was only 4 months old when Bose had to return back to Asia. Her mother brought her up where her father's last name was never included. Her birth certificate states, 'Anita Schenkl' which later changed to Anita Pfaff after her marriage to Martin Pfaff.
Reason to leave Congress
Appointed as the president of the Haripura Congress in 1938 brought power into his hands.
With the onset of World War II, Bose knew that the British wanted army support from India. Taking this as an opportunity, Bose started a resolution.
The resolution declared the surrender of India by the British in the time span of 6 months. Failing the resolution would result in a revolt.
Many Indian leaders opposed his resolution thus he resigned from the post of president.
He then formed an independent group known as the Forward Block.
Memorials
Statue of Netaji in Amritsar


Subhash Chandra Bose museum 



Netaji Subhash Chandra Bose International Airport


Death of Subhash Chandra Bose
18th August 1945
According to the sources, Netaji died during his escape from Japan to the Soviet Union.
Netaji Subhash Chandra Bose met his death in Taipei.
The death of Netaji has always been a matter of mystery. On one hand, some sources state that he met his end in a plane crash. On the other hand, some sources state that the British tortured him and then killed him.
Conclusion 
Subhash Chandra Bose, a personality who helped India in all orderly manners to gain its independence. But unlike many other devoted freedom fighters, even his story was left untouched and faded in the dust of history…